Out of the way, and worth the trip!
Locally and family owned, working with local farmers, sourcing the best, freshest ingredients available long before it was the in, trendy thing to do! Meals are created to order, from scratch in our small kitchen in our beautiful historic building.
A contemporary oasis offering affordable gourmet cuisine, Cosmo's Cucina was established in November 1992 with the goal of bringing simply creative cooking to Kalamazoo. Located at the corner of Vine and Locust Streets, two blocks west of Chenery Auditorium, also known as "Old Central High School." Cosmo's is on the second floor of a 110 year old building that has been the home of many restaurants including The Vine Garden Cafe, Wall Street and Granola, The Marketplace, The Troubadour and H. Buffalo Esquire.
The main floor was for many years, the neighborhood grocery and bakery, and the home of many different, sometimes eccentric retail endeavors. It is now the home of O'Duffy's Pub, a gathering place for friends, old and new.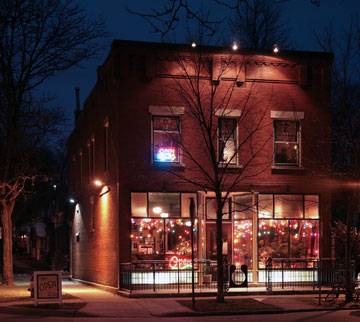 Cosmo's Cucina's hours are:
Friday to Saturday 5 pm–9 pm
Sunday 9 am–1 pm for breakfast
Closed Monday–Thursday
O'Duffy's Pub is open:
Wednesday to Thursday 3 pm–10 pm
Friday 3 pm–11:00 pm
Saturday 3 pm–11:00 pm
Closed Sunday, Monday and Tuesday
www.oduffyspub.com